Cornea transplant saves Martin's life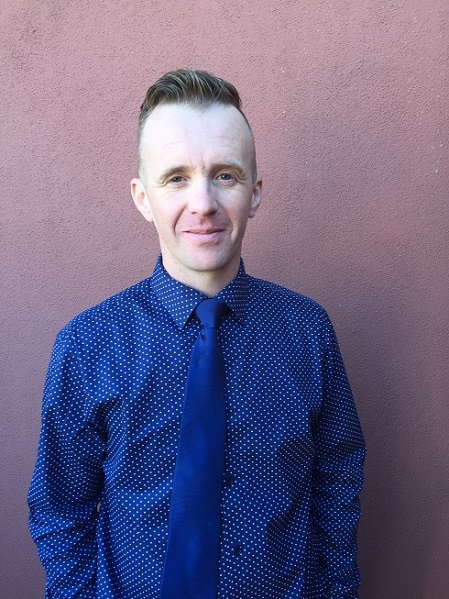 "I'm very grateful in more ways than one for my cornea operation!"

Martin knew in his late teens that something wasn't quite right with his vision as he was always squinting. But it was something he put up with. It wasn't until his early twenties when he applied for a job that involved a lot of driving, that he decided to get his eyes checked.
The optometrist sent him straight to an eye specialist where he was diagnosed with keratoconus – a condition where the cornea becomes thin and distorted (conical), usually beginning in the teenage years.
Martin tried wearing the hard contacts the specialist had given him, however they were extremely uncomfortable and didn't seem to make his vision much better. After several weeks he gave up.
Originally from Northern England, Martin moved to Palmerston North, New Zealand in 2005. Soon after he realised his vision was deteriorating further and finally, after constant hassles from friends for squinting, he went to see another specialist.
Twelve months later, on 14 June 2013 Martin flew to Auckland for his cornea transplant at Greenlane hospital.
The doctors had talked about just doing a partial graft, where just the top of the cornea is removed, however during the operation they discovered a full graft was required.
"I didn't realise the recovery was going to be so hard" he says. "I spent two weeks at home wearing a plastic patch over my eyes and putting eye drops in every hour. I wasn't able to do anything as I couldn't move my eyes. My wife was a huge support – I don't think I could have got through those first few months without her!"
"Due to the keratoconus I had developed a habit of rubbing my eyes all the time; it was really difficult post operation to avoid doing this!"
Three months later he flew back to Auckland for a check-up, all the tests were good. The operation had been a success.  The gaps between follow up appointments grew, as all was going well. Finally eighteen months after his transplant, Martin was able to have the stitches removed from his eyes.
Martin says "while the doctors were doing their pre-op checks for my cornea transplant, they picked up that I had a heart murmur. Six months after my cornea operation, I found myself back in hospital having open heart surgery!  If the doctors hadn't picked up the heart murmur" he adds, "I could have had a heart attack.  
"I am very fortunate that in my job as an embalmer, I have been able to watch a cornea retrieval operation. It's a very respectful process, with the donor and cornea removal procedure treated with the same care and dignity as the rest of the funeral preparations".
Martin says he feels very humbled now, because if it wasn't for the cornea transplant, he'd be really struggling to see. He still wears glasses for driving at night, but his vision is so much better and it's great to be able to see properly again.

Established in 1989, the NZ National Eye Bank has supplied over 4,700 corneas to New Zealanders. Currently around 300 people require a corneal transplant each year; nearly 50% of these are performed for patients with keratoconus.
Tissue donation, including eyes (corneas), heart valves and skin, can occur in most circumstances when people die, whether it is at home, in hospital or in a hospice. Cornea retrieval operations can also take place at a funeral home.


Expand to read more
Back To Top