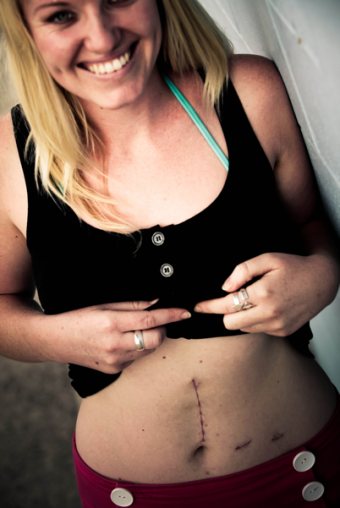 This decision enabled something good to come from something that was otherwise simply a terrible event. It's strange to think that on the day my world fell apart, someone else's world was rebuilt in a new way.
At the 2011 Thanksgiving Service 26-year-old Elizabeth Cunnane spoke about being in the unique position of being both a family member of a deceased organ donor, and also an altruistic kidney donor.
Last year she was admitted to hospital, even though she was the healthiest she had probably been in the last six years.
"I felt awkward and a bit too bright, rather too healthy and mobile to be there. But there was also a livewire of nervousness and apprehension in me. In 24 hours I would be in need of the same degree of medical care as those I was sitting next to. The following morning I was going into surgery to donate one of my kidneys, not to anyone I knew, but simply to someone whose own kidneys were terminally failing."
Elizabeth says that donating her kidney seemed then, and still seems now, a very simple and logical equation. "Not necessarily easy, but certainly a very clear-cut way to actively make some kind of difference. It's been an intense but remarkable process to be involved in, and one that's showed me for the second time how truly good – in the deepest sense of the word – organ donation is."
When Elizabeth was 16 she heard a radio interview with a woman who'd recently donated one of her kidneys altruistically and thought doing something like that would be such a straight forward way to make a difference. Several years later she approached the hospital about being an altruistic donor but it took until 2010 for her to get through all the medical and psychiatric assessments, and to satisfy the medical staff that she was old enough and sure enough of herself to know what she was committing to.
"People often ask what the initial motivation to do something like this was and while the radio interview was the conception of the idea, it was my father's sudden death in 2004 that acted as a catalyst to moving my thoughts from passive speculation to actively doing something.
"I recall standing at his bedside in ICU the day he died and thinking that if there was anything I could do to change the situation, I would do it. No hesitation, no qualms and no matter how hard, if I could do anything to change our circumstances I would do it in a heartbeat. One knows a new sense of depth to how much one can want something at such a time as that. "
Elizabeth said it wasn't right at that moment in the hospital, but some time later that she realised she could in fact be that change. "Obviously it wouldn't change my own father's death, but I could be that change factor that might ease things a little in someone else's time of helplessness. There's a certain sense of purpose, usefulness and the possibility of change in choosing to act in the face of distress. I had a similar need to do something."
"It wasn't simply my Dad's death; other losses over the subsequent years had, at various times, brought me to my knees. I came to understand that the counterbalance to loss was not to gain, but to give. The donation took on a greater significance as the decision to act was as important as the result of the action itself."
As the result of her father's death, Elizabeth had the unexpected experience of being part of the organ donation process from the perspective of a family member. "This decision enabled something good to come from something that was otherwise simply a terrible event. It's strange to think that on the day my world fell apart, someone else's world was rebuilt in a new way. But rather than being the initial motivation as it could be mistaken to be, I think Dad's donation acted more as confirmation of the true goodness of organ donation. It didn't make his death any easier to cope with, but it was one of the few things that at least made sense during that time. His death might have been one of the causes of the sense of helplessness, but it also appeared to hold confirmation of a surprising path forward too."
The weeks following Elizabeth's altruistic donation were intense physically, spiritually, emotionally and psychologically. But Elizabeth said after receiving an anonymous thank you letter a month later, it was staggering to read the words of the man who'd received her kidney. "To learn that he was a father of three children and that he'd been on dialysis for six years. The fact alone that he's a father and so those kids now have a greater chance of growing up with their Dad around was overwhelming."
Expand to read more