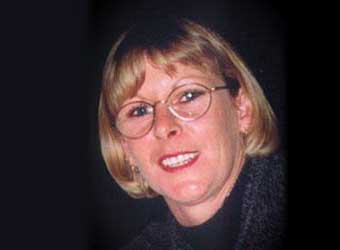 It's a good feeling knowing that her organs are giving someone else life, that Kerry is still helping somebody.
On the 30th of December, Kerry and her sister Deb popped down to the local hotel in Napier for a quick drink and to make plans for millennium night celebrations.
Deb left at about 7pm but Kerry stayed chatting to friends. At about 9:20pm Kerry felt sick and went outside to get some fresh air. She staggered and collapsed unconscious and was taken to hospital by ambulance. The family was called, and their concerns were further raised when Kerry began to deteriorate in the early hours of the following morning.
A brain scan revealed a large bleed from a ruptured artery in Kerry's brain - she had suffered a brain aneurysm.
Kerry's brother Kelvin, an intensive care paramedic for Wellington Free Ambulance, says that hospital staff explained the seriousness of Kerry's condition to the family, and that the prognosis was extremely poor. Although there remained a glimmer of hope, it was the beginning of the family's personal nightmare.
"She was surrounded by the latest technology, leads snaked across her body, but she was totally unmarked, she looked perfect, asleep. Only the hiss of the ventilator and the various alarms she was connected to reinforced how serious the situation was."
On New Year's Eve at the end of the millennium, while people partied across New Zealand, there were no celebrations for Kerry's family who sat quietly, waited and hoped.
"We had a family conference with the Intensivists on New Year's Day. Kerry was beginning to deteriorate further and the probability of brain death was discussed," says Kelvin. "Our family discussed organ donation if Kerry was to become brain dead. We raised this with one of the Intensivist's who reassured us they would do all they could for Kerry and that organ donation, if it came to that, would be a distant second to Kerry's care."
Family and friends were beginning to arrive from all over New Zealand, phones rang constantly and the situation grew grimmer and grimmer.
By the second of January Kerry was much sicker and was now totally unresponsive. The family left the hospital that night knowing that Kerry was to face a series of brain death tests in the morning. On the third of January, after all drugs had been withdrawn, Kerry was certified brain dead at 11:02am. She was 31.
Kelvin says that his family didn't know for certain whether Kerry would have wanted her organs donated as the family had never talked about it. However they decided that given her personality, it was what she would have wanted. Kerry's heart, pancreas, liver and kidneys were removed for transplantation, her heart going to a teenager who had been told he would not leave hospital unless a donor was found.
The family has since heard from all the organ recipients, and exchanges Christmas cards with them and their families through organ donor coordinators.
"They write such positive things to us which reinforces our decision. It's a good feeling knowing that her organs are giving someone else life, that Kerry is still helping somebody."
Kelvin urges people to discuss organ donation with their families. "Having donor on a driver's licence isn't enough. You need to talk about it with your family and friends so that people are aware what you would want to have happen in that situation. You just don't know when your time is up. It's so important to have that discussion."
Expand to read more