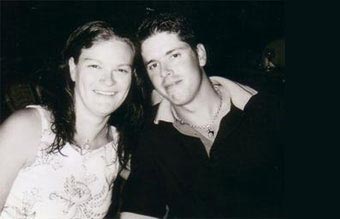 Jill says donating Braedon's organs helped her grieving process and is something she would encourage all families to discuss.
It was a cruel irony which saw Jill Kerr lose her son Braedon Lusty. He suffered a fatal cerebral aneurysm while playing in an annual charity rugby league match raising money for the Royal Flying Doctor Service in Outback Australia.
"He was more of an armchair fan as a rule, but he chose to drive almost four hours to play in the charity match. As one of his mates put it - "That's just the sort of bloke he was"." Jill says.
Braedon - a born and bred Kiwi - had lived in Australia for some years and worked as the Environment and Landscape Supervisor at Kings Canyon in Australia's Northern Territory. He was 28 when he died.
"I was in Golden Bay when I got the news. I went to Adelaide straight away. He had passed away before I got there but they had him on life support." Jill says.
"He looked good, very much himself, he just looked like he was asleep. He had a cheeky little grin on his face as always."
"We later found out it was an aneurysm, but at the time they weren't sure. He bumped his head on an opponent's hip while making a try saving tackle. He got up and ran on a few steps before collapsing. Luckily there were medical people on the scene who helped him, and the RFDS Hospital was only meters away, but in the end there was nothing that could be done."
Jill and Braedon had spoken about organ donation just three days earlier on the phone during one of his middle of the night calls.
"I honestly haven't been able to think how we got onto the subject. At first he was saying that nobody was going to get near his bits if he died and I was really surprised because that wasn't like him at all. He was so generous and kind about helping people. Then he said 'of course I want to donate my bits if they're any use to anyone' and I realised he'd just been having a lend of me as he often did." Jill says.
So when Jill heard that Braedon had gone, she knew that donating his organs was the right thing to do - what Braedon would want.
Doctors used Braedon's eyes, heart valves, kidneys, pancreas and spleen which went to help 11 patients altogether.
"Braedon was very into helping kids. While he was in the outback he founded and funded a rugby league school for underprivileged Aboriginal kids. All of his childhood years we had foster children. I think that probably played a big part towards his giving nature."
At his funeral, a friend summed it up saying: "Braedon was like Phar Lap. He had a huge heart and like Phar Lap he was a Kiwi. The Aussies have a way of helping themselves to the best that the Kiwis have to offer."
Jill says donating Braedon's organs helped her grieving process and is something she would encourage all families to discuss.
"I can't emphasize that enough. Parents, please talk to your kids about organ donation! Having donor on our driver's license is not enough. In the end, it wasn't my decision, it was Braedon's.
"I also need to add that the organ donation co-ordinators both in Adelaide and New Zealand have been absolutely amazing. I cannot thank them enough for all the support they have given me. Hopefully, some day I can help them out." Jill says.
Expand to read more