Caring Dad gives gift of sight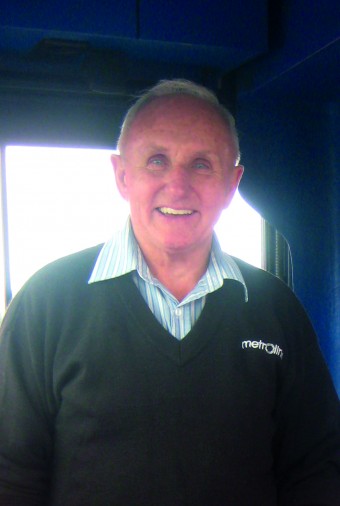 We were so pleased that Dad was able to donate and we're glad we did it. It means his life hasn't been wasted.
Every morning at 3.45, 66-year old Neville Cossey got up, made his wife Shirley a cup of coffee and went to work as a bus driver for Metrolink in Auckland. For 25 years it was a job Neville loved and a job he was dedicated to. Neville was well-respected and liked by his colleagues who said he would always give them a friendly wave when he passed them by.
Neville was a sensitive, caring person and an extremely clean and tidy man who enjoyed washing his car. His daughter Suzanne says that she and Shirley joked about being able to easily spot his car anywhere because it was the cleanest one in the car park.
It was while Neville was cleaning his car on a Thursday afternoon in September that he had a severe asthma attack and cardiac arrest. Suzanne was home at the time and administered CPR immediately, until the ambulance arrived eight minutes later.
During the ambulance ride to the hospital, Shirley remembers being told that the situation was very serious. Neville was admitted to the intensive care unit at Auckland's North Shore Hospital.
Shirley and Suzanne were well aware of Neville's wishes to be a donor. "He used to joke about it and say well, they won't want my lungs because I have asthma and they won't want my eyes because I can't see!" said Suzanne.
"He was always adamant that he wanted to donate his organs, "continues Shirley. "He had it on his driver's licence and we had discussed it and I wanted to respect his wishes. The hardest part was to know when to say something about organ donation. I told the doctor that Neville wanted to be a donor and it was noted on his file. I felt much more comforted after I had done that, knowing I had made his wishes clear."
After two nights in the ICU, Shirley and Suzanne were told that Neville was not going to survive because his brain had been without oxygen for too long. Neville was not brain dead so couldn't donate his organs, but his family were informed that he was able to be a tissue donor, if that was what they wished. Neville donated his eyes (corneas and sclera) and skin.
"We were so pleased that Dad was able to donate and we're glad we did it. It means his life hasn't been wasted," said Suzanne. "The decision to donate was so easy because we knew what he wanted."
Shirley agrees: "It makes his death a much nicer memory. I was really pleased when I received the letter [from the donor co-ordinator] saying the corneas had restored sight to two people. I was able to ring Neville's Mum and read the letter to her."
Two weeks before he died Neville had visited the doctor for his annual check-up and had been given a clear bill of health. Neville celebrated his second grandson's first birthday and went on a week-long holiday to Taupo with his wife. To be organizing his funeral less than a week after their return was something neither Shirley nor Suzanne ever thought would happen.
Many of Neville's colleagues attended his funeral, transported by a bus. "If all the people who wanted to come to the funeral had been able to, there wouldn't have been any buses in operation in Auckland on the day," says Shirley. "It was a lovely funeral really light-hearted and just so Neville. It was relaxed and happy and a real celebration of his life."
Expand to read more