Transplant boosts Oscar's sight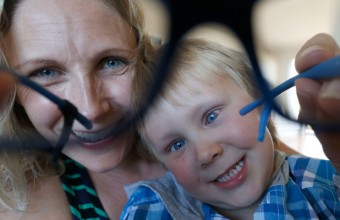 Four months after undergoing an ambitious operation, 3-year-old Nelson boy Oscar Walsh can see with both eyes again.
Oscar suffered an aggressive infection two years ago after a piece of grit got into his left eye. The grit was promptly removed at Nelson Hospital, but a bacterium that was introduced with it destroyed most of his cornea over the following weekend.
His mother Louise Walsh said doctors told her to allow Oscar to grow up with the use of just one eye, but after doing research on the internet, she found a better solution.
Dunedin girl Natalya Skelton became the youngest New Zealander to receive a corneal transplant in 2009, after successfully undergoing treatment for a condition similar to Oscar's.
Professor Charles McGhee of the University of Auckland performed the same operation on Oscar at Auckland's Eye Institute on September 2.
The complicated procedure is called a deep anterior lamellar keratoplasty (DALK), and involves attaching a cornea from a deceased donor to a thin layer of the patient's cornea.
Nelson ophthalmologist Derek Sherwood said prior to the surgery that DALK was difficult to carry out.
He estimated that there was about a 10 per cent chance that Prof McGhee and his surgical team would have to fall back on an older technique, which carried a 50 per cent chance of the transplant being rejected.
Everything went to plan, however, and Oscar now has about 15 tiny stitches holding his new cornea in place. The stitches should stay in place for up to a year, but will be removed if they come loose, as this increases the chance of infection. Two have been taken out already.
"It was quite a full-on recovery," Walsh said.
Oscar stayed at Ronald McDonald House for a month after the procedure to make sure he was close to Prof McGhee in case anything went wrong. The bandages covering his eye were taken off after 24 hours, but he kept both eyes tightly closed for a further four days.
"We actually went from having a child with the use of one eye to him cruising around blind for about a week," Mrs Walsh said.
She and husband Richard took Oscar to Kelly Tarlton's Sea Life Aquarium, the Auckland War Memorial Museum and Auckland Zoo to tempt him into taking a peek, but the big moment came when he was back at the unit, playing with another child, and couldn't resist opening his eye to see what was going on.
He told the Nelson Mail he could see "a little bit".
Mrs Walsh said she thought Oscar could see up to 10 centimetres in front of him. He had visual acuity of approximately 6:60. Normal visual acuity is commonly expressed as 6:6, meaning any image seen by a person with normal sight would need to be 10 times bigger before Oscar could see it.
She said Oscar had become better at receiving the eye drops he still needed twice each day, but tended to pull the remedial patches off his good eye unless they were taped on. The patches are meant to encourage his vision to balance out over time.
"He's a normal three-year-old boy who's a bit sick of having to comply with medical procedures.
"It's hard work, because he's a determined wee fella."
Oscar will go back to kindergarten this month with special protective glasses and an ACC-funded "bodyguard", who will watch out to make sure he does not get into any situations where his eyes could become endangered.
Walsh has been told that she is allowed to write an anonymous thank-you letter to the family of the deceased donor whose corneal tissue went into Oscar's eye. She has been told that the donor was a 50-year-old Australian. "We joke that [Oscar] will support the All Blacks with one eye and the Aussies with the other."
She said her son had been very brave during the procedure, and she was looking forward to family life returning to normal.
"We'll get there. We're glad we've done it. It's been full on, but to leave it the way it was [was unacceptable]."
By Sarah Dunn - Fairfax NZ News
Photo by Martin de Ruyter
Expand to read more