I had accepted death when the call came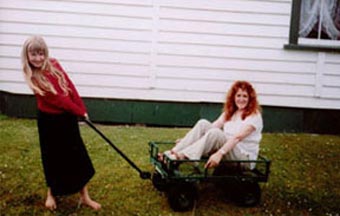 I had a chicken in the crock pot and when my relatives arrived, I said to them that they were going to have to get their own dinner as I was going off for a heart transplant.
Marcella Russell inherited her genetic heart condition from her mother. She had heart surgery at the age of 16 and then enjoyed 17 years of good health. During this time she married, had three children and trained and worked as a teacher.
In her early 30s, Marcella's health started to go downhill as a result of the inherited heart condition and lingering effects from the rheumatic fever she had as a child.
Between the ages of 34 and 55 she had two pace makers and a defibrillator implanted and spent a lot of time in hospital.
"For the last ten years, I have been extremely limited," says Marcella, who is now aged in her late 50s.
"I got breathless if I tried lifting anything and I tired easily. I had to organise my life so I could just amble everywhere."
"In the last four months before the transplant, I became really bad and knew that I was going to die if I didn't get a heart," Marcella says.
Her quality of life deteriorated to the point where she would plan just one job - washing or dusting or ironing - to do each day as it was all she could manage. Her kidneys were failing because her heart wasn't working properly.
A strong Catholic faith helped her find peace with this seemingly inevitable early death.
"I knew I was going to die. They don't put you on the transplant list until you reach that point. I had really good friends to talk to. Family was harder, I couldn't talk to my husband about my funeral at all," Marcella says.
"By this stage, I was only eating pureed fruit and had been for six weeks. I was on limited liquid and my mouth was so dry it was just awful," she says.
She had prepared for, and accepted, death. But things changed one afternoon when she received a phone call at 3pm saying there could be an organ available for her.
"I burst into tears on the phone and was told they would ring me back with an update at 5pm. I had an aunt and cousins coming up to visit that day as they knew I was dying and were coming to say goodbye. I had a chicken in the crock pot and when my relatives arrived, I said to them that they were going to have to get their own dinner as I was going off for a heart transplant."
"I drove myself to the hospital. My husband is a terrible driver and I wasn't going to have him kill me on the way there. At the hospital, I had a priest come and give me the last rites," Marcella says.
They weren't necessary. After a successful operation and 7 weeks in hospital, Marcella returned home to her family a different woman.
"I can dance," she says when asked what is so different about her new life. It may seem like an odd thing to focus in on - but it reflects her mental attitude, not just her renewed physical ability.
As a former teacher, Marcella firmly believes that education is the key to securing more organs for donation.
"People aren't educated. We need to go into schools and discuss it with the kids so it's then discussed at home. If the family all knew that it was a person's wish to donate their organs, then I think they'd be much more able to make that decision."
Marcella doesn't know whose heart she now has. She was told only that it was a man in his mid-20s. She shares Christmas cards and letters with his family and says she would like to meet them.
"I want to show them that I'm fine, put my arms around them. I can never be sufficiently grateful."
Expand to read more