New Heart, New Outlook on Life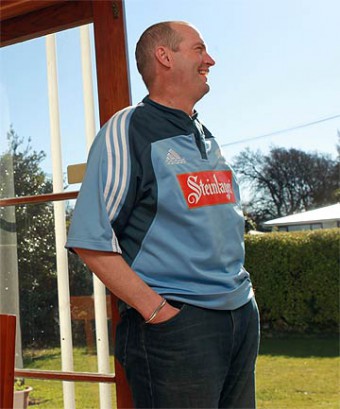 Aaron Coull has a new heart and a new outlook on life.
Coull, 40, returned to his Templeton home on Tuesday after waiting 13 months for a heart transplant.
The father of two was diagnosed with cardiomyopathy (enlargement of the left side of the heart) eight years ago.
His health had deteriorated and he could no longer lift his head off a pillow. Last September a pump was placed in his heart to keep him alive.
"I got to the stage where my heart gave up the ghost. I had no pulse," he said yesterday.
After months of being bedridden in hospital, a heart became available in June, and Coull underwent the transplant.
All he knows is the donor was a male, aged in his mid-40s.
"I'm just so grateful to be given this opportunity by the donor family," he said.
"I'm not going to live in a box because I've had a heart transplant. I'm going to make the most of every opportunity I get."
The gift of the heart was made all the more poignant by the death of a friend on Sunday.
His friend had also been waiting for a heart. "He didn't get the same opportunity."
Coull, who will need to take anti-rejection drugs for the rest of his life, said New Zealand did not have enough organ donors.
"People don't realise that just because you've got `donor' on your licence it doesn't mean you are a donor," he said.
"It means nothing. It comes solely down to your next of kin. They've got the final say.
"It's a horrible conversation to have over dinner, but people have to discuss organ donation with their families. This has meant a new life for me.
"I've got a seven-year-old son who I've probably done more with in two days than I did all of the whole of last year," he said.
Coull said he aimed to do many things with his children, Ashleigh, 9, and Todd, 7.
He planned to return part-time to his job as a benchtop manufacturer at the end of November.
By Amy Glass - The Press
Photo by Dean Kozanic
Expand to read more