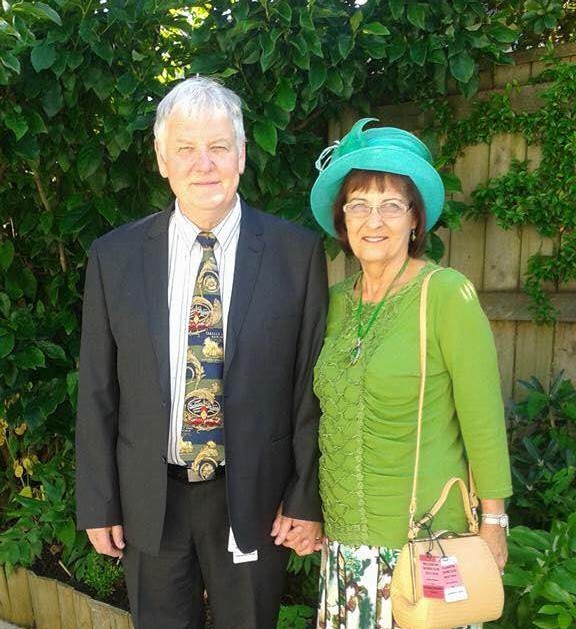 "I don't want to waste the gift I have been given" Jennie says
Born on Christmas Eve, 1948 in a wee cottage hospital in Lower Hutt, Jennie Peterson describes herself as a 'sickly kid' whose ill health prompted her family to move to Fiji. Her family lived there for five years and she says they "thrived in the warmer climate".
Jennie and her brother took up swimming while in Fiji and by the age of eight, she could swim a mile.
Returning to New Zealand at the age of ten, Jennie continued to swim with the Naenae Swim Squad and obtained the Swimming 'Blues'  Award at Hutt Valley High a few years later.
On leaving school Jennie trained to be a nurse, before later becoming a midwife.
Jennie enjoyed good health until the early 1980's when she got very sick and it took months to get a diagnosis.  She had many blood tests, scans, ultrasounds and x-rays over the following years before finally being diagnosed with Primary Sclerosing Cholangitis (PSC) - a disease of the bile ducts that causes inflammation in the liver.  The condition impedes the flow of bile to the intestines and can cause liver cirrhosis, liver failure and other complications.
Over the subsequent years, Jennie had quite a bit of time off work, but still managed to live life to the full, gardening, going to church and spending time with family and friends while under constant doctor's supervision.
In November 2014, Jennie retired from work as she was run down, exhausted and just wanted to sleep all the time. Later that month she went to see a specialist at Hutt Valley Hospital who told her she had liver failure.
On the 19th December 2014 Jennie was put on the waiting list for a liver transplant. "We had to have our bags packed and have them with us at all times, so we'd be ready to go when the call came through" she says. "This could be at any time and we would have less than 12 hours to get to Auckland Hospital. We lived in a constant state of readiness"
Meanwhile Jennie tried to cope with terrible itching and jaundice caused by the increased bilirubin being deposited under the skin, but nothing seemed to help. She also had her hair cut short as she was losing it by the handfuls and it was easier to cope with. All jobs were so tiring, but she did what she could. She was also having frequent nose bleeds and bruised very easily.
On Tuesday January 6th 2015, Jennie was phoned at 11pm to say that Auckland may have a suitable donor liver, but that they had to complete several more tests, and they would ring at 7am the following morning. "We couldn't get back to sleep and got up and repacked our bags again" she says. "But soon after 7am we heard it was a 'no go' as the liver was not suitable".
Then on Saturday 2nd May 2015, Jennie was woken at 11.30 pm by the Auckland Liver Transplant Unit. She had to be on the 7am flight to Auckland the next morning.  "We arrived at Auckland Hospital at 8.30am and went straight to Ward 71, where I was admitted and had blood tests done" she says. "However, we heard about lunch time that another person's need was greater than mine, so we were off home again. It was a very emotional day after trying to prepare mentally and letting the family know" she says.
"Finally on Wednesday 28th May 2015, the phone rang at 5am and it was all on! We had to be on the 8am flight to Auckland" Jennie says.
She arrived at Auckland City Hospital and went up to Ward 71 where she saw the transplant team, had bloods and x-rays done. "My husband and I went for a walk to get our heads around things. I even had time out in the Chapel.  The rest of day was spent waiting around until 7.30pm when I went off to the operating theatre".
"I woke up on Friday 29th May in DCCM (Department of Critical Care Medicine). My husband Roy had been rung at 3am to say I was in recovery and all had gone well. Unfortunately I had to go back to theatre Friday night as I had a leak in my bile duct. I don't remember much about the first few days!"
On Sat 30th May 2015 Jennie was stable enough to go back to the ward. Now the road to recovery started.  "It was a bit scary as there was so much to take in and learn" she says, "but I took little steps, slowly up in the chair and around the bed, increasing slowly and for longer bursts".
"We spent our 45th wedding anniversary in the ward - no fancy meal, hairdo or dressing up, but a friend helped me out of the hospital gown and into my own nightie!"
The next two weeks followed a daily routine of blood tests, four hourly blood and sugar tests, exercise, fluids and trying to eat with little appetite.  "I had a nasal gastric tube in for nutrition, IV fluids and insulin". There were doctor's rounds twice a day, followed by physio and more mobilizing.
Jennie was discharged on the 10th June 2015 and went to the Waldorf Hotel just over the Grafton Bridge up on the 6th floor. Even though discharged, she still had to attend doctor's clinics at Auckland and Greenlane Hospitals and have blood tests three times a week.
On Saturday 20th June, Jennie moved to Lions Liver Transplant House in Grafton where she stayed for just over five weeks.
Recovery wasn't easy, Jennie says.  In the early transplant days she experienced shaking, vision problems, difficulty concentrating, depression and no motivation or appetite.  However she forced herself to do household chores and also joined the local gym.
"Life is slowly returning to normal now and I am gardening again and not missing work at all!"
"I had two wee bumps in the road post-transplant when I was admitted to Hutt Hospital: one in August 2015 for two weeks and another in February 2016 for five days, when I was treated conservatively. All is ok now though".
In December 2015, just seven months after her transplant, Jennie went to see the Auckland transplant team in Wellington and she came off insulin.
Jennie is hoping to get clearance to travel in June, as it is the first anniversary of her transplant and she has booked to go to Europe in September 2016.
"I am back at floral art and can get to church again. I also belong to a 60+ group which is fun. I feel back to my old self again now and I'm even thinking of being a volunteer at Te Omanga Hospice in Lower Hutt".
"I don't want to waste the gift I have been given" she adds.      
 "I would like to express my thanks to all the nursing and medical staff and all the organ donation and transplant services that keep the 'ship' running so well".


Expand to read more