Kidney's a 25 year life saver for Anita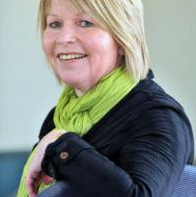 To celebrate 25 years with her donated kidney, Outram woman Anita Lloyd took it home to Wellington.
She always had a "rough idea" the organ that made a "huge difference" for her was from the capital.
With friends and family, she celebrated the occasion there earlier this month, wearing specially-made T-shirts.
The "lucky third" kidney transplant she received at the age of 19 followed two failures: one lasted a only month, and the other just two years.
Her 1987 transplant pre-dated live donations, meaning her kidney came from a dead donor.
"I would love to thank the donor family. They were struggling with losing someone they loved.
"They made the decision to donate, which saved my life.
"Thank you is not really enough ..."
Before the anniversary, she asked Dunedin's "super" nephrology department for an ultrasound of her kidney, which she used to make personal cards to thank people, including the doctors in the department.
She could "count with one hand" those she personally knew around New Zealand whose transplants lasted 25 years or more.
There were also one or two recipients whose transplants were going strong after more than 40 years.
Organ failure was common, requiring constant monitoring for signs of deterioration.
"It's never out of the back of your mind that one day it will fail, because it's not meant to last forever," Mrs Lloyd said.
She had been surprised by how many approaches the special T-shirts attracted in Wellington, mostly from people who knew someone with a transplanted kidney.
Many were surprised her transplant had lasted so long, and it was good to give people hope for the recipients they knew, she said.
She urged people not to consider themselves donors if they had "ticked the box" on their driver licence. It was always a family decision, and something people should discuss beforehand.
Mrs Lloyd said her transplant gave her a life which bore "no comparison" with having to endure regular dialysis.
By Eileen Goodwin, Otago Daily Times
Photo by Gerard O'Brien
Expand to read more