Grateful for the gift of life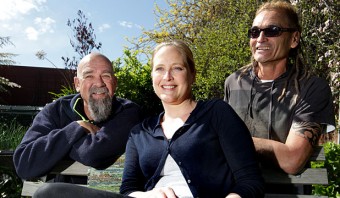 The numbers 173, 100 and 299 will seem like random numbers to many, but for three Blenheim people they are a constant reminder of the gift of life.
Lisa Erikson, George Sutherland and Linus Maxwell all received organ transplants. They believe they wouldn't be alive today if it weren't for donors.
It's a procedure that transformed and saved their lives.
Saturday was Organ and Tissue Donation Awareness Day and Erickson, Sutherland and Maxwell hit the streets to share their stories and encourage people to "have the conversation".
People need to talk with their families about becoming an organ and tissue donor, should they ever be in a situation where it is possible, because family members will always be asked for their agreement.
At the age of 33, Erikson received the 173rd double lung transplant in New Zealand. That was in June last year.
She had a rare lung condition known as pulmonary arterial hypertension. There was no cure and she could only be treated for the symptoms.
"The only option was a transplant," she said.
Her transplant came fast - six days from the day she was put on the active waiting list.
She was in surgery for 12 hours and every day since that moment, she treats as a gift.
"I just existed before... now I'm the best I've ever felt in my whole entire life. It's incredible. I was very lucky.
"I'm so grateful for this gift. I think about it every day, about how my donor saved my life," Erikson said.
"If it weren't for them and the decision they made, I wouldn't be alive today.
"They were my miracle."
Sutherland was the 100th patient to receive a heart transplant.
He thought he was doing everything right - until a heart attack in 1995 set him back. He was diagnosed with a condition known as Ischaemic Heart Disease and was told his only option was a transplant.
"The damage was done. There was nothing I could do about it... I got to that stage where there was nothing else they could do with me."
Sutherland was put on the active waiting list in 1997 - 11 months later he had a new heart and lungs.
He was given the opportunity to write to the family of the donor - which he did - to thank them for saving his life, he said. "Not a day goes by when I don't think about them.
"I get told in interviews that I'm brave and courageous and I say no, it's the family and the person who has gifted me this life who are brave and courageous."
Sutherland said it was time for others people to be brave now and "say yes to becoming a donor". One donor can transform the lives of 10 people, he said.
Maxwell, 56, wants to spread the same message.
He was the 299th patient to undergo a liver transplant.
He once thought of himself as "Mr Indestructible".
"I had no limits."
But he soon realised that was far from the truth. In 2006, Maxwell came off his bicycle and X-rays not only picked up two cracked vertebrae, but also an abnormal liver.
By July the following year, Maxwell was in Auckland Hospital receiving his transplant.
He had received the phone call while on his way for a check up in Blenheim.
Maxwell had fought so hard and had even thought about giving up, he said.
"Twice I could have easily given up but I didn't... now, today, I realise everything I went through was worth it."
The gratitude he feels to the person whose liver saved his life has been a powerful incentive to make the most of every day. "I have a new outlook on life. I can't even describe it."
By Chloe Winter - The Marlborough Express
Expand to read more