Recipients say thanks for transplant organs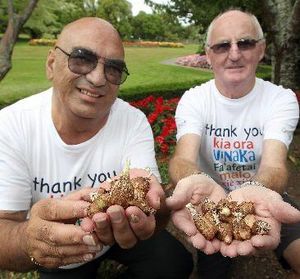 Rotorua transplant recipients have marked the country's inaugural Thank You Day by planting freesia bulbs in Kuirau Park.
Organ Donation New Zealand said yesterday's event was about thanking donors, their families, health professionals and everyone who helped make transplants possible. Freesias, symbolising new beginnings, were planted in public places throughout the country.
The day also aimed to raise awareness and encourage people to have a conversation with their loved ones about their wishes should they ever be in a situation where organ donation is possible.
Rotorua men Bryan Eckersley and Wiremu Keepa have both had heart transplants and were happy to show their appreciation by getting their hands dirty.
Mr Eckersley received a new heart six years ago and had since gone on to compete in the transplant games, masters games and numerous other sporting events.
He said he did whatever he could to raise awareness, pointing out that New Zealand had one of the lowest donor rates in the world. "A lot of people die before an organ becomes available."
He hadn't met his donor's family but he and his wife had written them letters to express their gratitude. "We thanked them for their gift of life," he said.
Mr Keepa received a heart transplant in 2003 after four years on the waiting list. He has met his donor's family and said it was fantastic to be able to thank them in person.
He said he was passionate about raising awareness of organ donation, particularly among Maori.
By Katie Holland - Rotorua Daily Post
Expand to read more