Coffee to spark talk on organ donations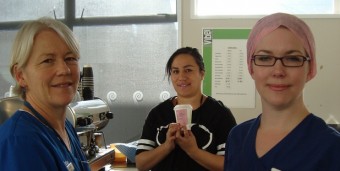 Drinking coffee could now spark a conversation about donating your organs or tissue.
Cafes in Rotorua are taking part in a promotion by Organ Donation New Zealand which encouraged people to talk with their families about their wishes on organ and tissue donation.
Speech bubble stickers will be put on top of takeaway coffee cups bought from local cafes saying, 'Have the conversation today.'
The promotion will be run on next Friday as part of the Organ Donation New Zealand awareness day on next Saturday.
Organ donation link nurses at the Lakes District Health Board, Andrea Colby and Lara Tyler said organ transplants could be life-saving for heart, lung and liver recipients while kidney and pancreas transplants dramatically improve the lives of those who receive the organs.
Tissue transplants include heart valves to save the lives of babies and young people, skin to treat people with severe burns and eye tissue to restore sight or repair eyes.
While tissue donation was possible in most circumstances when people die, organ donation is only possible when a person is on a ventilator in an intensive care unit, usually with devastating brain damage. Fewer than one per cent of all deaths happen this way.
They encouraged people to have the conversations around tissue and organ donation is really important, because what people have committed to on their driver's licence is only an indication of what they want.
"When donation is possible, a clinical person will have a discussion with the patient's family. we will ask the family for their agreement to donate, and what organs and tissues they want to donate. That's why it's so important for people to have a conversation with their family about their wishes," Mrs Colby said.
The Rotorua cafes that are taking part in the awareness day are: Vibe Hospital Cafe and hospital coffee kiosk, Lime Cafeteria, Fat Dog Cafe, Zippy Central, the Library Store Cafe, Okere Falls Cafe, Picnic Cafe, Third Place Cafe, Be Rude Not To, Capers Epicurean and the Coffee Club @ Redwood Centre.
Rotorua Daily Post
Expand to read more