Transplant girl's TRYathlon triumph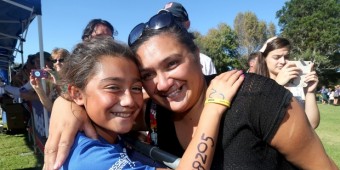 Jorden Edmonds-Griffiths wasn't expected to compete in yesterday's North Shore Weet-Bix TRYathlon.
Born with a rare liver disease that affects just one in 160,000 Kiwis, the Great Barrier Island 10-year-old wasn't expected to be here at all.
"When you are told your child won't make their first birthday when they are 4 months old, to see them running a triathlon with 2000 other kids is pretty cool," said Jorden's mother, Leef.
Diagnosed with biliary atresia - a disease that affects the liver and bile ducts - Jorden spent most of her first four years in hospital. At 3, she received a liver transplant, a treatment with no guarantee of success. Since the transplant she has relied on drugs to stop her body rejecting the organ. The treatment has worked, but the drugs have compromised her immune system, making her susceptible to infections.
The road to the start line was long.
"It's only the past two years she's managed to do physical activity," her mother said. "Her specialist was actually quite shocked she was doing well enough to enter triathlons. Not many transplant kids get to do the things she does."
The five Okiwi School kids who completed the race represented more than 10 per cent of its roll of 42.
With sponsorship help from Auckland Council, the group flew in from Great Barrier on Friday night and were to return to the island yesterday.
"Jorden was really, really stoked when she finished," said her mum. "She was quite tired, and we have to catch a plane back at 4pm, so it's a big day."
Around 2000 children aged 7 to 15 took part in the TRYathlon at Woodall Park, Narrow Neck.
By Steve Deane - New Zealand Herald
Photo by Jason Oxenham
Expand to read more