Recipients Relish Round the Bays Milestone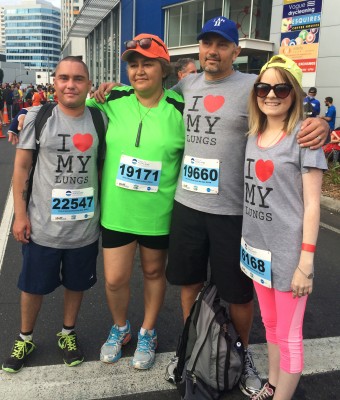 A year ago, 46-year-old Darren Wilcock couldn't walk to his letterbox without having to sit down and recover afterwards.
He was on oxygen 24 hours a day, seven days a week. His health deteriorated so much that he was almost taken off the waiting list for new lungs because he was too sick to undergo the operation. Little did he know then that thanks to the generosity of an anonymous donor family, he'd be completing Auckland's Round the Bays on 9 March 2014.
Darren, along with fellow lung recipients Andrew Scherer. Kay Pere and Lizzy MacKay decided that competing in Auckland's popular 8.4km race around the waterfront would be the perfect milestone following their transplants in 2013.  The four of them, along with a group of supporters, had some t-shirts made up and used the event as an opportunity to raise money for cystic fibrosis.
Being able to exercise again after years of being sick to is something Darren described as a miracle. Since his transplant in the middle of last year, Darren has been walking and cycling. "To be able to compete in Round the Bays so soon after my transplant is pretty incredible," he said. "It's like magic."
Photo: Lung recipients (from left) Andrew Shearer, Kay Pere, Darren Wilcock and Lizzy MacKay.
Expand to read more