Organ recipients spread message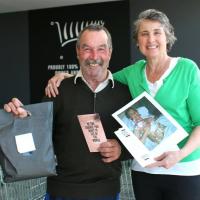 It was not so long ago that Wes Fry would struggle to get around a supermarket.
An oxygen bottle in his trolley, nasal cannula in, Mr Fry would lean on a trolley and quietly maintain some independence.
His life, he said, was ''hell''.
On Saturday, Mr Fry stood happy, healthy and ''alive'' promoting Organ and Tissue Donation Awareness at Northside New World supermarket in Oamaru almost a year after having a lung transplant.
He and Vicki Kennedy, also a lung transplant recipient, were encouraging shoppers to have the ''all-important conversation'' about organ and tissue donation.
Their message on Saturday, was: have the conversation with your family, no matter how difficult that might be.
One organ donor could save the lives of up to 10 people.
''It's amazing what one person can do, how many lives can be altered and changed,'' he said.
For Mr Fry and Mrs Kennedy, Saturday was all about giving back.
''You get your organ - it's so exciting, you've got your life back again, but you're always thinking: `What can I do to give back?','' Mr Fry said.
After getting the call that his lung transplant would go ahead on November 21 last year, Mr Fry boarded a plane in Oamaru and on the flight to Auckland he met the man who was about to receive the heart of the same donor.
He keeps in touch with his transplant ''twin'', but he has never inquired about the donor.
''All I know is I have very healthy lungs and I wake up every morning and give thanks - I'm alive, it's another day,'' he said.
Mrs Kennedy, who received her lung transplant in June 2011 after spending nine months on the national waiting list, said she was weeks away from dying when she received her call.
A year after her transplant, she wrote to her organ donor's family.
''I put in [the letter] that it must've been a difficult decision for them to make,'' she said.
''They said 'no' because she [the donor] had made her wishes quite clear, so it wasn't difficult for them to actually make the decision.''
Organ Donation New Zealand clinical director Dr Stephen Streat said death and dying were not topics people liked to talk about.
''We hope the brochures dispel some myths that surround organ and tissue donation and encourage people to have that conversation with their loved ones,'' Dr Streat said.
Mrs Kennedy and Mr Fry will be at the supermarket again this Saturday, with stickers and a series of new brochures, posters and postcards to further raise awareness about organ donation.
By Rebecca Ryan - Otago Daily Times
Expand to read more