One Family's Personal Journey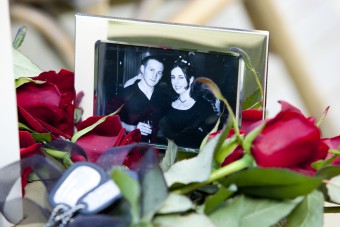 I vividly remember the day my life was changed forever.
I was living in Scotland, doing the obligatory "OE" and was sleeping in after a night out at the Edinburgh festival. My flatmate called up to me and said there was a message on the phone from my father. I rushed down the stairs and when I saw my flatmate's face, I knew this wasn't a message I wanted to receive.
My father had phoned from Waikato Hospital's intensive care unit (ICU). My younger brother Jared had been hit by an out-of-control car while he was walking along a footpath with his girlfriend Johanna on a sunny afternoon. The driver had taken her eyes off the road for six seconds while she attempted to open a soft drink. In that time she drove off the road and onto the footpath hitting both Jared and Johanna. Jared's head went through the windscreen of her car.
My parents Wendy and Paul live in Tauranga and it was Mum who took the call to tell them their son was badly injured and they had to get to Waikato Hospital immediately. On arrival at the ICU they were greeted with the words "pray for a miracle". Sadly, no miracle was to come for my tight family of four.
The following afternoon, as I was making the 36-hour journey home alone, Mum and Dad were told that Jared, was who supposed to be celebrating his 23rd birthday in ten days, had sustained fatal head injuries and tests had confirmed that he was brain dead. Somehow Mum knew what was coming next, despite the topic of organ donation never being discussed in my family. The intensivist carefully explained the situation to Mum and Dad and said that Jared could be an organ donor, if that is what they wanted.
Jared was 22 and had his whole life ahead of him. He was an engineer in the army and had been sent to East Timor twice, even celebrating his 21st birthday while on tour there. He had sat and passed his driving test when he was 15 and on his licence it stated that he wanted to be a donor. Mum and Dad simply followed through with his wishes. It wasn't their decision – it was Jared's. As it was something we had never discussed, had it not said donor on his licence, they would not have agreed to organ donation.
I arrived back in the country and was greeted by Mum who told me Jared was dead. I don't remember when Mum mentioned organ donation but it was never something that I questioned. If that's what Jared wanted then so be it.
We knew that time was of the essence but not once did we feel rushed to say our goodbyes to Jared. Seeing him in hospital was a shock. The ventilator that kept the blood flowing around Jared's body meant he didn't look dead, just asleep. It is for this reason I could never pass judgement on any family who couldn't follow through with organ donation. My only sibling was lying there dead, having been fit and healthy and full of life only two days prior, and in an hour's time he was going to be taken to the operating theatre and have his organs surgically removed so that he could save other people's lives.
We left the ICU to drive back to Tauranga at about 5pm. By 8am the following morning the retrieval operation had taken place and Jared was back at home for family and friends to say their goodbyes. Organ donation didn't prevent this from happening, nor did it hold up funeral arrangements.
We heard from Janice Langlands, donor co-ordinator for Organ Donation New Zealand (ODNZ) the morning after the retrieval and were told that Jared donated his heart, liver, kidneys and eyes. Unfortunately there was no match in New Zealand or Australia for his lungs so they were not retrieved. As a family we were responsible for saying what organs we wanted to donate. If we hadn't wanted to donate his eyes, for example, we didn't have to.
Janice asked if we would like an update on Jared's recipients in a few weeks time. Yes please said Mum. Four weeks after Jared was killed, I returned to Scotland. Before we left for Auckland airport, Janice phoned. The man who received Jared's heart had walked to the top of One Tree Hill that day. We all cried as we drove past One Tree Hill on the way to the airport.
Information about the recipients is kept confidential. For good reason I believe. It protects both the donor family and recipients. My family all feel differently about organ donation. For Mum it has been comforting to know that six people's lives have been saved or dramatically improved because of my brother's wishes. She wrote anonymously to the recipients via Janice at ODNZ telling them a little bit about my brother. She has heard back from the heart recipient, liver recipient and one of the kidney recipients. She is still extremely sad not to have heard back from the other recipients, especially the corneal recipients as they were both around Jared's age. I can not imagine how hard it is to write a letter to a donor family but for our family it meant so much.
Dad doesn't really think about the recipients. He is pleased Jared's organs were donated but he'd rather have his son back. Thinking about the recipients is too hard. It's too real.
I didn't really think much about the recipients either until four years ago when I became the Communications Advisor for ODNZ, a job that I feel so lucky to have. By chance I saw the job advertised in 2009 and knew that was the job for me. Despite initial concerns from my parents, my husband and my future colleagues that it would be too difficult, I knew it was perfect. I think about Jared every single day regardless of where I work. There will always be days where the grief is overwhelming but being able to work in a team who understand my background, and liaising with the amazing donor families makes me feel closer to Jared. My role includes providing accurate information for the media, managing and updating our websites, providing health professionals with information, creating pamphlets and posters, increasing public awareness and ensuring the public know where to access information about organ and tissue donation.I started meeting recipients through work and I hope that Jared's recipients are making the most of their lives as these inspirational people are. And if they are then it's worth it. Jared's death was such an avoidable tragedy. The fact he was able to donate his organs means to me, that his death wasn't such a complete waste of his life.
Organ Donation New Zealand is the national service for deceased organ and tissue donation in New Zealand. Janice Langlands, team leader and donor co-ordinator, is part of the on-call team of donor co-ordinators who are available 24 hours a day, seven days a week. "Part of my job involves co-ordinating and travelling with the surgical teams to retrieve the organs and tissues after the family has generously agreed to donation. Often I meet with these families in the ICU and am overwhelmed by the decision they have made in what is often the worst time of their lives. The donor co-ordinators provide feedback and support for families following the donation. Many families comment that it wasn't their decision to donate, they were simply doing what their loved one wanted." That is why it important for families to discuss donation so that the wishes of their family members are known.
Organ donation – heart, lungs, liver, kidneys and pancreas – can only happen when a person is on a ventilator in an intensive care unit and has fatal brain damage. Fewerthan 0.5% of all deaths happen this way.
Tissue donation – eyes, heart valves and skin – is often possible regardless of where the person has died and can take place a number of hours after death.
People of all ages, including the elderly, can be considered for donation. Age andmedical history will determine which organs and tissues can be donated. For example, people with cancer can donate eyes even though they cannot donate organs and other tissue.
Many people tick "yes" to becoming a donor on their driver's licence form. This is an indication of what you want. Your family will also be asked for their agreement and this is why it is important to have a conversation with your family about your wishes.
One donor can save or dramatically improve the lives of up to 10 people.
For more information phone 0800 4 DONOR.
By Melanie Stevenson - Latitude Magazine April/May 2013
Expand to read more