Donor awareness a lifesaver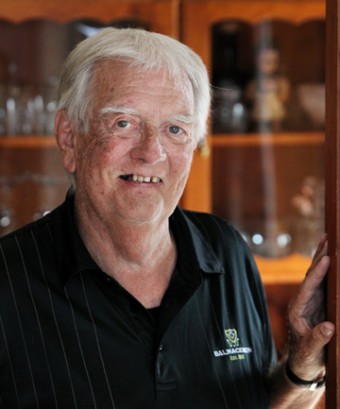 Not talking to family about organ donation can have "devastating" effects, a Timaru man says.
Bill McLoughlin had a kidney transplant 20 years ago, giving him a second chance at life. He was 42 and until then had never "given a thought" to organ donation.
"It's a taboo subject. It's like death - you don't expect it to happen," he said.
Now he believes it is something everyone should consider and talk to their family about so everyone's wishes are known.
His comments come in the wake of figures showing there were just 38 organ donors in New Zealand last year.
Mr McLoughlin's family went through heartache before learning about organ donation. His niece was killed in a car accident, but the family was not asked about whether they wanted her organs to be donated, he said.
They weren't and now he wonders if her death could have helped someone else survive.
However, not everyone can donate.
Mr McLoughlin said the death of his niece, along with his own health issues, had made many of his family members determined to help others when they could.
"My sister, when she found out about me needing a transplant, she rang up my doctor straight away and asked what she could do."
However, Mr McLoughlin ended up getting his new kidney from an unknown donor.
He said he owed a lot to organ donation. His quality of life had improved and he was able to father another child, which would not have been possible without a transplant, he said.
Family Role In Organ Donation Promoted
Tell your family if you want to be an organ donor.
That's the message from Organ Donation New Zealand (ODNZ) in light of recent statistics showing just 38 people donated organs last year.
Those donors assisted 110 individuals.
South Canterbury donors have expressed their support for the service, with many telling The Timaru Herald they were happy to donate if it meant another life could be saved.
Some also expressed concern that more people did not donate.
ODNZ deals only with organs donated after death and not live donations.
ODNZ Communications Advisor Melanie Stevenson said it was important people talked to their families about their wishes.
"What happens is when people do know the wishes of their loved ones, they are more likely to follow through."
She said people indicating they were donors on their driver's licences was "just an indication", and did not mean their organs would be donated.
It is not known how many organ donors there are in South Canterbury. However, there are many people in the community who regard themselves as prospective donors.
One respondent on Facebook did not have a problem being a donor.
"I won't be needing [my organs] when I am six feet under and there are always a lot of people out there in the big wide world needing them."
Bronwyn Nally said because she would not need her organs once she had died, she would rather give them away to "make someone's quality of life better".
Caeley Gordon is also supportive of the concept.
"I'm a donor and if I die and someone can make use of a part of me to keep themselves alive to be with their family then that would give a bit more meaning to my passing."
ODNZ donor coordinator Janice Langlands said that in some cases, age was not a barrier for people who want to donate.
People of all ages will be considered to be kidney or liver donors; up to 85 years for eye tissue, 70 for lungs, 65 for hearts, 60 for heart valves and all ages for skin.
By Alexia Johnston - Timaru Herald
Photo by Mytchall Bransgrove
Expand to read more